PENGGUNAAN GEOGEBRA UNTUK MENINGKATKAN AKTIFITAS DAN KOMPETENSI FUNGSI KUADRAT DI SMAN 1 PANDEGLANG
Dedi Setiawan

SMAN 1 Pandeglang
Keywords:
Activity, Geogebra, Base Competition, Quadratic Fungtion
Abstract
This classroom action research aims to improve and develop the quality of learning and problem solving through direct application in the classroom. This research was conducted from August 2018 to October 2018 starting from planning to processing data using the type of classroomaction research 3 cycles. Statistically there are differences in the significant increase in learning activities of students as indicated by increasing aspects of asking, answering questions, conducting experiments, observing experiments, using tools and materials, making observation tables, writing data in observation tables and writing answers, discussions with groups, collaborating with groups, observing presentation activities, listening to presentation and expressing opinions, listening to teacher information and confidence in learning activities. In addition, the use of the Geogebra application also shows an increase in Quadratic Function competencies in the first, second and third cycles as indicated by an increase in the percentage of achievement of the learning objectives. From the results of this study it can be concluded that the Geogebra application can improve the activity and competency of the quadratic function material for the X semester 1 students of the MIPA program at SMAN 1 Pandeglang.
References
Arsyad, A. (2009). Media Pembelajaran. Yogyakarta: Raja Grafindo Persada.

Depdiknas. (2007). Pendidikan Kewarganegaraan, Strategi dan Metode Pembelajaran Pendidikan Kewarganegaraan. Jakarta: Depdiknas.

Hovenwarter, M., et al. (2010).Teaching and Learning Calculus with Free Dynamic Matgematics Software GeoGebra. Tersedia;http://www. publications.uni.lu/record/2718/files/ICME11-TSG16.pdf. [15 Nopember2015]

Rosalia, T. (2005). Aktifitas Belajar. http://id.shvoong.com/social-sciences/1961162-aktifitas-belajar/(27/03/15)

Saputro, B. A., & Farida, M. P. (2015). Media Pembelajaran Matematika Dinamis di Sekolah. Semarang: Universitas PGRI.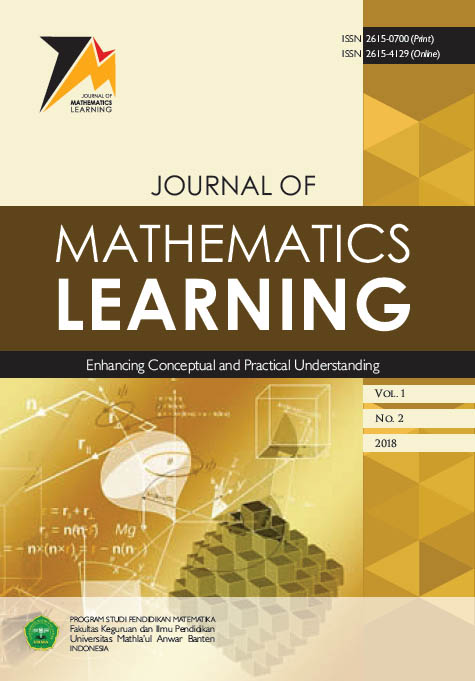 How to Cite
Setiawan, D. (2019). PENGGUNAAN GEOGEBRA UNTUK MENINGKATKAN AKTIFITAS DAN KOMPETENSI FUNGSI KUADRAT DI SMAN 1 PANDEGLANG. Journal of Mathematics Learning, 2(1), 1-10. https://doi.org/10.30653/004.201921.28
This work is licensed under a Creative Commons Attribution 4.0 International License.