PENERAPAN MULTIMEDIA MACROMEDIA FLASH TERHADAP PERKEMBANGAN PERSEPSI VISUAL SISWA PADA PEMBELAJARAN MATEMATIKA
Deni Pratidiana

Universitas Mathla'ul Anwar Banten

Rusdian Rifa'i

Universitas Mathla'ul Anwar Banten
Keywords:
Macromedia Flash, Visual Perception, Mathematics Learning
Abstract
This research due to determine the effect of using Macromedia Flash multimedia on the development of students visual perception especially in mathematics learning. The method which is used in this research was quasi experimental method by The Post-test Only Control Group Design. The experimental group has been chosen by based on pre-tests result of Frostig Test as a research instrument. The Frostig Test seeks to measure 5 visual perceptual skills which are eye-motor coordination, figure ground, constancy of shape, position in space and spatial relationships.The result of research revealed that t score > t table (3,05 > 2,00), so the conclution is denied H0 . Its mean that the means of students Perceptual Quotient with Macromedia Flash multimedia is higher than students Perceptual Quotient with Powerpoint multimedia especially in mathematics learning. In another words, the process of mathematics learning with Macromedia Flash multimedia can give an effect to thedevelopment of students visual perception significant more higher than Powerpoint multimedia.
References
Abdurrahman, M. (1999) Pendidikan Bagi Anak Berkesulitan Belajar, Jakarta: PT. Rineka Cipta.

Agustina dan Heribertus. (2007). Magicmathic's-Cara Kreatif Belajar Matematika. Yogyakarta: ANDI.

Hamalik, O. (2013). Proses Belajar Mengajar. Jakarta: Bumi Aksara.

Nggermanto, A. (2008). APIQ: Inovasi Pembelajaran Matematika Kreatif. Bandung: OASE Media

Sandjaja, S. (1993). Hubungan antara Kemampuan Persepsi Visual dan Tingkat Pendidikan Orang Tua dengan Kemampuan Membaca di SD Kanisius Semarang Barat. Tesis Pasca Sarjana Universitas Gadjah Mada, (Yogyakarta)

Sobel, M. A., dan Maletsky, E. M. (2004). Mengajar Matematika: Sebuah Buku Sumber Alat Peraga, Aktivitas dan Strategi. Jakarta: Erlangga.

Sugiyono. (2008) Metode Penelitian Kuantitatif, Kualitatif dan R & D, Bandung: Alfabeta.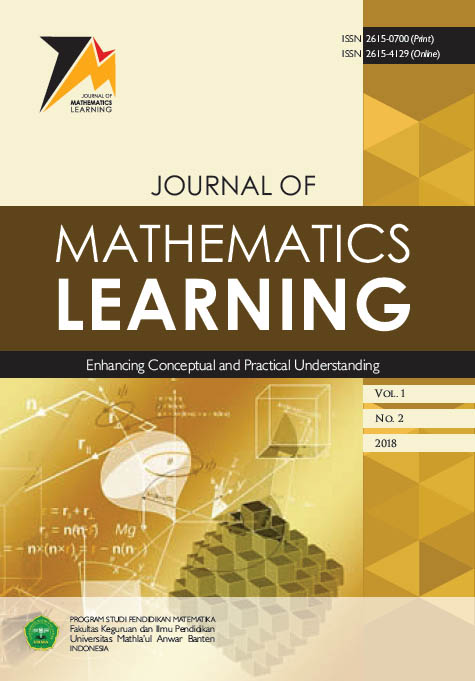 How to Cite
Pratidiana, D., & Rifa'i, R. (2019). PENERAPAN MULTIMEDIA MACROMEDIA FLASH TERHADAP PERKEMBANGAN PERSEPSI VISUAL SISWA PADA PEMBELAJARAN MATEMATIKA. Journal of Mathematics Learning, 2(1), 11-17. https://doi.org/10.30653/004.201921.29
This work is licensed under a Creative Commons Attribution 4.0 International License.