PENGARUH PENDEKATAN OPEN-ENDED DALAM MENINGKATKAN PEMAHAMAN KONSEP MATEMATIKA SISWA SMA
Teti Trisnawati

STKIP Pelita Pratama
Keywords:
Open-ended Approach, Ability to Understand Mathematical Concepts
Abstract
The difficulties experienced by students in learning mathematics are caused by weak understanding skills in mathematical concepts. One alternative learning that can improve students' understanding of mathematical concepts is an open-ended approach. With this learning the teacher gives open problems to students. The purpose of this study is 1) to find out whether an increase in understanding of mathematical concepts using an open-ended approach is better than students who get conventional learning. 2) to find out how students' attitudes towards the application of mathematics learning using an open-ended approach. According to the method, this research is experimental research. The population taken is all students of class X SMAN I Bayah. The sample taken was class X students taken two classes, randomly selected. From the results of the study, it was concluded: an increase in the ability to understand the mathematical concepts of students who obtain mathematics learning with an open-ended approach is better than students who get regular learning; students behave positively towards mathematics, on mathematics learning with open-ended techniques, and on understanding mathematical concepts.
References
Agustian, Y. H. (2004). Penerapan Model Pembelajaran Pemandu Awal (Advance Organizers) pada Pokok Bahasan Bangun Datar untuk Meningkatkan Pemahaman Siswa. Skripsi FMIPA UPI Bandung: Tidak diterbitkan.

Dahar, R. W. (1996). Teori-teori Belajar. Bandung: Erlangga.

Dahlan, J. A. (2004). Meningkatkan Kemampuan Penalaran dan Pemahaman Matematik Siswa Sekolah Menengah Lanjutan Pertama melalui Pendekatan Pembelajaran Open-Ended. Disertasi PPS UPI Bandung: Tidak diterbitkan.

Meier, D. (2002). The accelerated Learning Hand Book: Panduan Kreatif dan Efektif Merancang Program Pendidikan dan Pelatihan. Bandung: Kaifa.

Ruseffendi, E. T. (1989). Dasar-dasar Matematika Modern dan Komputer untuk Guru. Bandung: Tarsito.

Suherman, E. (2003). Evaluasi Pembelajaran Matematika. Bandung: JICA UPI.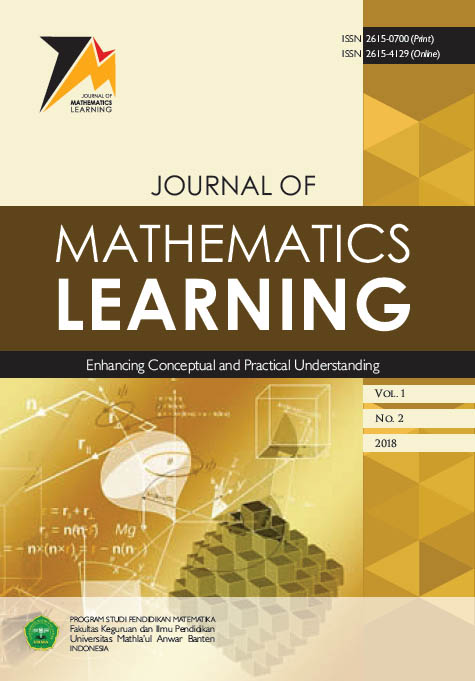 How to Cite
Trisnawati, T. (2019). PENGARUH PENDEKATAN OPEN-ENDED DALAM MENINGKATKAN PEMAHAMAN KONSEP MATEMATIKA SISWA SMA. Journal of Mathematics Learning, 2(1), 37-45. https://doi.org/10.30653/004.201921.32
This work is licensed under a Creative Commons Attribution 4.0 International License.